Hello Friends!
Tonight I bring you a review of another historical romance. I think I'm repeating myself again, but you guys know my love for this genre.
"Her Banished Knight's Redemption", written by Melissa Oliver, is a Historical Romance in the Medieval Romance subgenre, the second book in the Notorious Knights series published on 21st January 2021 by Harlequin / Mills&Boon Historical.
If you want to read my review of the first book, here it is: "The Rebel Heiress and the Knight".
I want to thank Rachel, at Rachel's Random Resources, and Melissa Oliver for the eCopy of this book and for allowing me to join in the fun and being a part of the blog tour with my honest review of the book. Opinions expressed in this review are completely my own.
---
Synopsis
A lady's need for protection
A knight's chance for redemption
Exiled Knight William Geraint answers only to himself. Yet, a mission to find and reunite lost heiress Lady Isabel de Clancey with her family is Will's chance to finally atone for the torment of his past. With every rushed mile, their intense attraction becomes dangerously thrilling. He swore to protect Isabel not seduce her, but their desire for each other could threaten the redemption he's worked so hard to achieve…
Purchase Links: Mills and Boon | Harlequin | Amazon US | Amazon UK
---
About the Author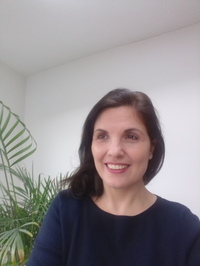 Melissa Oliver is from south-west London where she writes historical romance novels. She lives with her lovely husband and daughters, who share her passion for decrepit, old castles, palaces and all things historical.
Melissa is the WINNER of The Romantic Novelist Association's Joan Hessayon Award for new writers 2020 for her debut, The Rebel Heiress and the Knight – Book 1 Notorious Knights.
Social Media Links: Twitter | Goodreads | Facebook
---
My Review
This was Melissa Oliver's second book, and it's also the second of a series. I must confess, I haven't read many Medieval Romances, not as much as compared to other subgenres of Historical Romance, but Melissa Oliver is getting me to join the band and go on tour.
Her first book was amazing and her second was as lovely.
Will and Isabel… I loved them! I love that Will was honorable and still broken, it made me want to hug him and help him. And Isabel was such a strong woman, I wanted to be her friend. And them together, Lord have mercy, they were cute and their interactions let me dream.
Okay, I do love a good Historical Romance because the characters take me back in time, and let me dream of romance. And I do need that, specially now. But the truth is, the author didn't just had romance in her story. It had drama and action, and definitely secrets and flawed characters that felt very real.
Overall, you know it's expected to have a happy ending, yet that don't takes it away from the amazing journey we take with the characters as they grow, feel in love and fight for themselves and for what's right and true. And Melissa Oliver gave me that and I can't wait for her next work. I'm a fan.
---
Don't forget to check out all the other bloggers that given their contribute in this Blog Tour, from Reviews, extracts or a very limited Q&A.
---
Don't forget to comment, don't be stranger. If you have any book recommendation you can leave a message using the form on my Contact Me page.
If you are an author or publisher and want me to do a review of a book please check out my Request Review page to learn more about the reviewing policies.
I always welcome new books to add to my list and I'm always excited to do reviews and read books. And I'm open to debate and exchange opinions, so let's talk.
Also, if you would like to join me as a guest on my blog, check out the Guests Post page to know more and contact me so we can start planing your visit.
Love,
Jess