Hello Friends!
I hope you are having a lovely Saturday.
Today I bring you a review of yet another historical romance, this one by an author that is new to me.
"The Rebel Heiress and the Knight", written by Melissa Oliver, is a Historical Romance in the Medieval Romance subgenre, published on July 1st 2020 by Harlequin Historical.
I want to thank Rachel, at Rachel's Random Resources, and Melissa Oliver for the eCopy of this book and for allowing me to join in the fun and being a part of the blog tour with my honest review of the book. Opinions expressed in this review are completely my own.
---
Synopsis
She must marry the knight

By order of the king!Widow Eleanor of Tallany Castle knows her people are broken by the taxes demanded by King John. So when she's ordered to marry Hugh de Villiers, a knight loyal to the king, she's furious—even if he is handsome! As gallant Hugh begins to heal the scars of Eleanor's abusive first marriage, she's even more determined to keep her secret: she is the outlaw the king wants to send to the gallows!
Purchase Links: Amazon US | Amazon UK
---
About the Author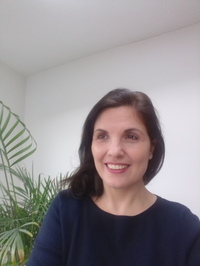 Growing up in Richmond- Upon-Thames, Melissa Oliver used to walk past the old Mills and Boon offices as a teen, and wistfully sigh that one day her dream of writing for them will come true. Amazingly, after all these years, it finally has…& now she can bring all those stories out onto the pages of her books. Melissa lives in south-west London with her gorgeous husband and equally gorgeous daughters, who share her passion for castles, palaces and all things historical.
Social Media Links: Twitter | Goodreads | Facebook
---
My Review
Although my experiences with medieval era in historical romances isn't as big as with the Regency era, I am quite fascinated after reading some books in that subgenre. When I saw this book, I joined the blog tour, thinking it could be a good opportunity to expand my knowledge on medieval romances. I was very excited to read it even more after reading the blurb.
We follow Eleanor and Hugh and they have quite an interesting relationship, with each interactions and the more they get to learn about one another, it evolves. The growth and changes also happens with our understanding of Eleanor and her life – past and present – with made me, as a reader, feel connected with her.
It was not just seeing a romance begin or the all Enemies to Lovers idea take place, it was truly understand the characters as well. And I joyed it. Maybe I noticed this empathy with the characters and a side-by-side growth of empathy and connection with the them because it was this kind of a trope, that already requires change in the minds and feelings of those involved.
So, yes, I enjoyed getting to meet the characters and learn more about the society during this time period. It is different, the idea of Knights has always ben fascinating to me. And I loved the resilience that is shown by Eleanor and Hugh's stubbornness.
Overall, I loved the plot, that is true, I love the secrets and drama, the humor, the interactions, but what I love more was how the writing caught my attention and moved me. I don't have many references about this era, and still the setting and the descriptions made it possible for me to have an image of what was happen as I read.
This is the debut novel by Melissa Oliver and I feel like she deserves an applause because she did a brilliant job with the story and the fact that it was a character driven story made so engaging and exciting. Each little thing and moment that made us, the reader, connect with the struggles, the thoughts, the goals, the actions… I will definitely have my eyes open for future books by this author and I'm not very curious to read other stories in the Medieval Era and see what tales are out there.
---
Don't forget to check out all the other bloggers that given their contribute in this Blog Tour, from reviews to basic promo/spotlight posts.
---
Don't forget to comment, don't be stranger. If you have any book recommendation you can leave a message using the form on my Contact Me page.
If you are an author or publisher and want me to do a review of a book please check out my Request Review page to learn more about the reviewing policies.
I always welcome new books to add to my list and I'm always excited to do reviews and read books. And I'm open to debate and exchange opinions, so let's talk.
Also, if you would like to join me as a guest on my blog, check out the Guests Post page to know more and contact me so we can start planing your visit.
Love,
Jess