Hello Friends!
You may be wondering what today's post is about. Allie Cresswell's new book is out and I bring you a guest post to celebrate it. Allie's message. Bellow you will also find the author bio and the blurb to "The Lady in the Veil" with the purchase links.
Enjoy!
~Jess
---
Guest Message
I think it is a sad fact of life that that a person looks like is given far more importance than what they are like as people.
Although social media, TV, magazines and adverts tend to be full of young, beautiful and well-toned human beings, the world isn't. Speaking personally, as a woman past sixty, my grey hair, sagging body and wrinkles have taken a bit of getting used to. I've never been a beautiful person, certainly never well-toned—although I was once young. I have no problem being inside this 'old lady' carapace but I'll admit that catching sight of myself in a mirror (or on my daughter's Instagram) is a shock.
The reason these things have been on my mind lately is my new novel, The Lady in the Veil. It has turned out to be about being judged by appearances. The eponymous character—Georgina—hides herself from public view for reasons that she does not quite understand. Her mother is extremely retiring, shying from the possibility of being recognised, and Georgina has assimilated this behaviour. Also, a very unpleasant encounter in her pubescent years has given her cause to distrust her appearance; it has an unnerving effect on people. It distracts from who she is. There is something quite extraordinary about her appearance. Increasingly, she hides herself from view, adopting a thick veil.
When she is forced to go to London, where the 1835 season is at its height, far from affording her anonymity, the veil marks Georgina out. Society gossips are galvanised; who is the mysteriously veiled lady? And what horrors does her veil conceal? A modern equivalent of this might be cosmetic surgery that goes wrong; the subject is looked at—but for all the wrong reasons. The kindest thing would be to say nothing, but people are not kind and social media goes crazy with cruel pictures, speculation and scorn. My character finds herself the subject of the same kind of feeding-frenzy. If she had hoped—via the cloaking mechanism of the veil—to be judged for her personal qualities rather than for her appearance, she is sorely disappointed.
What surprised me about the way my story developed was that Georgina's veil not only skews the way she is seen, but also obscures the way she sees. Necessarily, to keep her face hidden, the gauze of the veil must be thick. How, then, did she see out? My research suggested that the fabric of the veil would be fabricated or decorated in such a way as to allow a greater transparency across the eyes. But it seemed to me impossible that the wearer's vision could not be hampered. At one point Georgina describes everything 'as seen through a dirty window'; she is suspicious and distrustful of the outside world, fearful without quite knowing why.
Not only does she not see the world clearly, she does not see herself clearly either. 'I never look in a mirror,' she says. How can she expect to be seen, valued, accepted by others if she does not see, value or accept herself?
The Lady in the Veil is the story of a young woman who needs to see and love herself, written by an older woman who, perhaps, needs to do the same.
~Allie Cresswell
---
Author Bio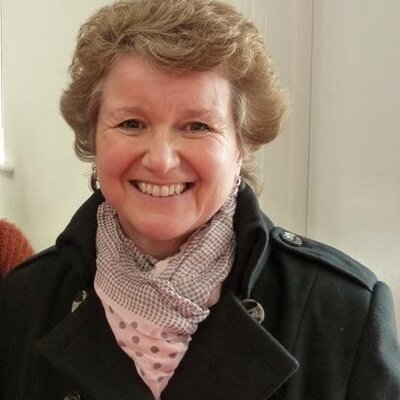 Allie Cresswell was born in Stockport, UK and began writing fiction as soon as she could hold a pencil.
She did a BA in English Literature at Birmingham University and an MA at Queen Mary College, London.
She has been a print-buyer, a pub landlady, a book-keeper, run a B & B and a group of boutique holiday cottages. Nowadays Allie writes full time having retired from teaching literature to lifelong learners.
She has two grown-up children, two granddaughters, two grandsons and two cockapoos but just one husband – Tim. They live in Cumbria, NW England.
Social Media Links – Facebook | Twitter | Website
---
Synopsis
What secrets hide beneath the veil? When her mother departs for a tour of the continent, Georgina is sent from the rural backwaters to stay with her cousin, George Talbot, in London. The 1835 season is at its height, but Georgina is determined to attend neither balls nor plays, and to eschew Society. She hides her face beneath an impenetrable veil. Her extraordinary appearance only sets off gossip and speculation as to her identity. Who is the mysterious lady beneath the veil?
The Lady in the Veil continues the story of the Talbots in The House in the Hollow but stands equally well alone.
Purchase Links: Amazon UK | Amazon US
---
Don't forget to comment, don't be stranger. If you have any book recommendation you can leave a message using the form on my Contact Me page.
If you are an author or publisher and want me to do a review of a book please check out my Request Review page to learn more about the reviewing policies.

I always welcome new books to add to my list and I'm always excited to do reviews and read books. And I'm open to debate and exchange opinions, so let's talk.

Also, if you would like to join me as a guest on my blog, check out the Guests Post page to know more and contact me so we can start planing your visit.
Love,
Jess