Hello Friends!
I hope you are having a lovely Thursday night. Ready for a new review? Well, today I bring you a review of a historical romance, this one by an author that I have read before and that I have been loving her stories.
"The Return of Her Lost Knight", written by Melissa Oliver, is a Historical Romance in the Medieval Romance subgenre, the third book in the Notorious Knights Series published on 24th June 2021 by Harlequin Historical.
I want to thank Rachel, at Rachel's Random Resources, and Melissa Oliver for the eCopy of this book. Opinions expressed in this review are completely my own.
---
Synopsis
With her lost love…

To avoid a forced marriage, Lady Gwenllian plans to escape to a convent. She couldn't possibly honor another when her heart still belongs to Ralph de Kinnerton, the man she had to betray to save his life—only to hear of his death shortly after. So how is it possible he's here at this knight's tournament? Now the pull of their unfinished past forces Gwen to question the choice she'd made for her future…
Purchase Links: Amazon US | Mills & Boon
Author Content Warning: Some scene of combat. Reference to sexual assault ( not on page)
---
About the Author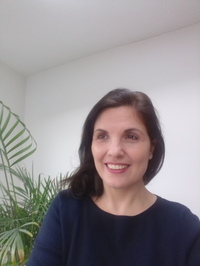 Growing up in Richmond- Upon-Thames, Melissa Oliver used to walk past the old Mills and Boon offices as a teen, and wistfully sigh that one day her dream of writing for them will come true. Amazingly, after all these years, it finally has…& now she can bring all those stories out onto the pages of her books. Melissa lives in south-west London with her gorgeous husband and equally gorgeous daughters, who share her passion for castles, palaces and all things historical.
Social Media Links: Twitter | Goodreads | Facebook
---
My Review
Do I love historicals? Yes! Have I found out that I actually enjoy the Medieval subgenre? Well, yes. And partly because of the two previous books I have read of Melissa Oliver.
This story is the third book in the series, but honestly you can read it as a standalone, because although some characters from previous books make an appearance, it's not in a way that may require you to have read the other stories. I do recommend you to check them out if you haven't, because they are quite good. I do have to say that this may be my favorite.
In this romance, we follow Lady Gwenllian and Ralph de Kinnerton in their second chance love story. I do like when the characters have a second opportunity at romance, especially when it makes sense, and the author made this story relatable and emotional. I was excited to see Gwen and Ralph together.
Drama, secrets, danger, family, love, happiness, past and future. Lots of elements that made the story fly while I read it. I was connecting with Gwen and I wanted to know how hers and Ralph's story would end up. I knew it wouldn't be easy, it never is when there is a past between the characters, but it just made it exciting to know what would happen next.
Overall, I loved the emotion in the storytelling and it made so happy by the end. It was such a good journey for Gwen and Ralph that I couldn't help but loving every bit I spent reading.
---
Don't forget to check out all the other bloggers that given their contribute in this Blog Tour, from reviews, limited Q&As and Extracts.
---
Don't forget to comment, don't be stranger. If you have any book recommendation you can leave a message using the form on my Contact Me page.
If you are an author or publisher and want me to do a review of a book please check out my Request Review page to learn more about the reviewing policies.
I always welcome new books to add to my list and I'm always excited to do reviews and read books. And I'm open to debate and exchange opinions, so let's talk.
Also, if you would like to join me as a guest on my blog, check out the Guests Post page to know more and contact me so we can start planing your visit.
Love,
Jess